Home

Spiritual Insight
E-books

About the
Author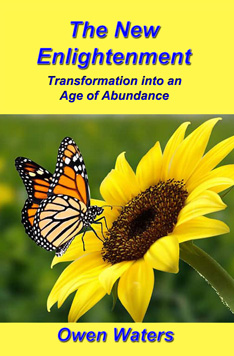 The New
Enlightenment
by Owen Waters
New book
Just released!

Transformation into an
Age of Abundance



A long-awaited quantum leap in human consciousness has arrived. Predicted by a ground-breaking psychology professor in the 1970s, it sets the human mind free to be creative, kind and constructive in ways that will transform the world into a remarkably better place.

This book reveals the metaphysical drivers behind today's revolution in human consciousness. With this understanding, you can engage in the New Enlightenment to bring complete abundance into all aspects of your life, whether you seek financial abundance, better friendships, good health, enlightening spiritual growth, or all of the above.

The dawn of the New Enlightenment means that we now have the readiness to face any challenge in life with inspired resourcefulness. Spiritual seekers find the new mindset especially helpful as actively engaging in it can be ten times more effective in gaining enlightenment than passive meditation practices!

Order your personal copy of The New Enlightenment now:
Click the Buy Now button below for the PDF E-BOOK format.
View on any computer, tablet or smartphone; is printable.
Introductory price: $20 U.S.
(Approx. 16 GBP, 19 EUR, 27 CAD, 31 AUD, 33 NZD, 3000 JPY, 1660 INR.)
E-book is available in English only.
For the PDF, click "Buy Now" for the option to Pay with a Paypal account or
select Paypal's "Pay With Debit or Credit Card" option to checkout as a guest.

HELP INFO: If you need help after clicking Buy Now, come back and read this.
Other currencies are converted into US$ - be sure to select the Country scroll-down box.
Card payments are processed through Paypal (Paypal account not required). Your card information is guaranteed secure and protected through their ultra-secure privacy system.
If you have used your email address to open a Paypal account before, they will ask you to log in.
If you have used that credit or debit card in a Paypal account before, they will ask you to
log in using the email address that you used at that time.
Forgotten Paypal password or email? Start by clicking their "Forgot email?" link.
PDF reader: Most devices automatically support PDF e-book files.
If you have an older device, you can install the free Adobe Acrobat Reader app.
LANGUAGES: Our pdf e-books are in English only. Once you save a pdf on your device,
it can be translated to other languages using translate.google.com.