Home

Spiritual Insight
E-books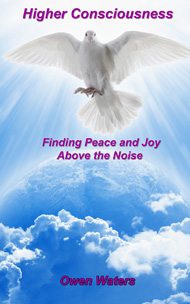 Higher Consciousness
Finding Peace and
Joy Above the Noise

by Owen Waters




In a world filled with intense conflict, can you really rise above it all? Can you really find peace and joy above the noise and clatter of politics, steaming resentment, and even hatred that circulates today?

The answer is yes, definitely... if you know how. This book will provide you with that exact information.

This deeply insightful book makes the vibrational scale of human consciousness crystal-clear. It shows you exactly how to rise above the turmoil into a realm of peace and joy and it shows you how to avoid the common traps that exist today. It also shows you exactly how your action in rising to states of higher consciousness benefits everyone on the planet... far more than you ever realized!

With this book, you will be ready to step into a powerful new realm of freedom and joy, one in which you see real, transformational magic happen in your life and in your surroundings.
Bring Higher Consciousness into your life now and set your spirit free!

Available as either:

(1) An Amazon Kindle e-book (available in English only) via these links - Amazon.com USA or Amazon sites in Canada, Australia, UK, Brazil, Netherlands, Spain, or

(2) A printed Paperback book from the above sites, or

(3) An e-book PDF download - printable, view on any computer, tablet or smartphone. Just US$9.97...
For the PDF, click "Buy Now" for the option to Pay with a Paypal account
or select the "Checkout as Guest" option to pay with a debit or credit card.

HELP INFO: If you need help after clicking Buy Now, come back and read this.
Other currencies are converted into US$ - be sure to select the Country scroll-down box.
Card payments are processed through Paypal (Paypal account not required). Your card information is guaranteed secure and protected through their ultra-secure privacy system.
If you have used your email address to open a Paypal account before, they will ask you to log in.
If you have used that credit or debit card in a Paypal account before, they will ask you to
log in using the email address that you used at that time.
Forgotten Paypal password or email? Start by clicking their "Forgot your email?" link.
PDF reader: Most devices automatically support PDF e-book files.
If you have an older device, you can install the free Adobe Acrobat Reader app.