Home

Spiritual Insight
E-books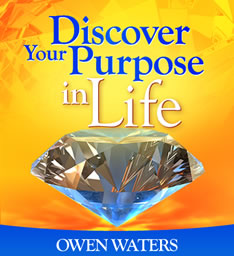 Discover Your Purpose In Life
by Owen Waters

This ground-breaking e-book will not only show you how to discover the purpose of your inner being and your own destiny, it will take you on a voyage of inner discovery.

On this journey, you will pass through the layers of what used to be unsolved mysteries. At each step, we will go deeper still, always using the question "why" to go deeper still, until we reach the final layer and discover the answer to the ultimate mystery in life.

Just imagine what it will be like to wake up every morning and know that you hold the key to the very reason for life itself. Not just to your own purpose, but the master key to the very reason for the existence of the universe!

When you gain this profound depth of understanding, imagine the sense of purpose and destiny that will be yours each and every day!

Discover your own unique purpose in life now. See how it fits in perfectly with the natural flow of the universe and even with the original reason for life itself. Your journey of discovery is waiting.

Download your personal copy of Discover Your Purpose In Life and set your spirit free!
Format: PDF e-book, printable. View on any computer, tablet or smartphone.
Regular price for immediate download: US $19.95
Special sale price - just $9.99! (Save 50%)
Click "Buy Now" for the option to Pay with a Paypal account or select the
"Checkout as Guest" option to pay with a debit or credit card.

HELP INFO: If you need help after clicking Buy Now, come back and read this.
Other currencies are converted into US$ - be sure to select the Country scroll-down box.
Card payments are processed through Paypal (Paypal account not required). Your card information is guaranteed secure and protected through their ultra-secure privacy system.
If you have used your email address to open a Paypal account before, they will ask you to log in.
If you have used that credit or debit card in a Paypal account before, they will ask you to
log in using the email address that you used at that time.
Forgotten Paypal password or email? Start by clicking their "Forgot email?" link.
PDF reader: Most devices automatically support PDF e-book files.
If you have an older device, you can install the free Adobe Acrobat Reader app.